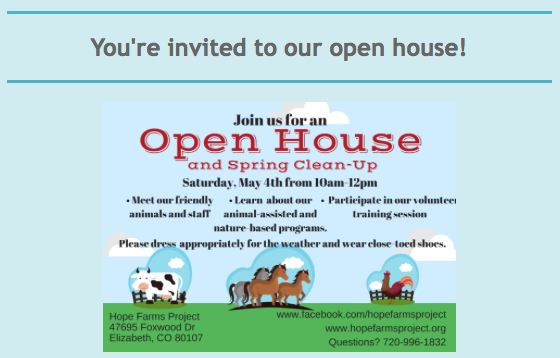 Meet us at the farm! It's a great time to visit the animals, meet the staff and learn more about all the great things going on at Hope Farms Project.
We can't wait to see you there!
Saturday, May 4th from 10AM-12PM
47695 Foxwood Drive
Elizabeth, CO 80107
Questions? Contact Anna at 720-996-1832 or b.kramer@hopefarmsproject.org
The Lighter Side of Border Collies
Miss Allie is not happy about her bath and she kept turning her head away from the camera, so I know she is guilty!
Colorado Springs Garden Guru Kicks Off '100 Garden Challenge'
Growing your food is its own reward, but it's fun to win stuff, too.
Colorado Springs gardening enthusiast Larry Stebbins is launching a contest to get more backyard gardens started in 2019. At least 100 more.
High-Altitude Bee Keeping: Getting Started
If you have thought about keeping bees at high altitude you are on a beautiful, exciting, and at times challenging journey.
The Pikes Peak Beekeepers Association
A not-for-profit organization providing information and support for commercial and hobby beekeepers in the Pikes Peak region
Pikes Peak Beekeepers Association
Welcome To CSBA
The Place To BEE In Colorado
Northern Colorado BeeKeepers Assoc.
Educating Our Communities, In Service To Beekeeping
Thinking about learning something new in 2019? Here's your opportunity!
Whether it's beekeeping, composting, or keeping chickens—we're committed to helping you grow in your journey of regenerative organic agriculture. We have something for everyone—webinars, workshops, even yoga and meditation. Join us!
Visit the Rodale Institute website today!
The Rocky Mountain Llama and Alpaca Association
Alpaca Breeders of the Rockies
Could Alpaca farming be a worthwhile venture?
Instead of buying a pet this Year consider adopting one!
Here is a partial list (not all) of the Denver metro areas pet shelters.
Many breed organizations also offer rescue/adoption services for many specific breeds. Please contact one today.
Mother Earth News - Main Podcasts Page
Mother Earth News - Profit as a Homesteader
Cold Frame Ideas - Get Ready For Winter!